Golf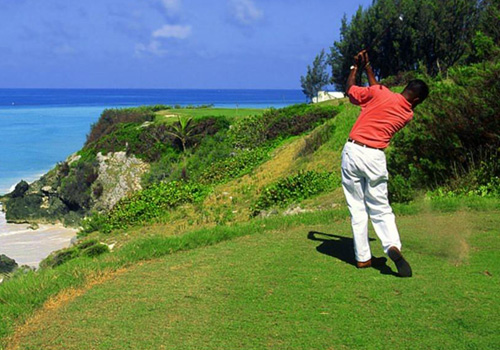 Most regional countries have but a handful of golf courses but Thailand boasts more than 250, including some of the most feted resort and tournament track. Tens of thousands of golfers fly into Thailand every year just for the affordable golfing that is on offer. Most courses are designed with many water features and strategically positioned bunkers. Destination diversity and the vast choice of golf courses located throughout the country are key factors attracting the large numbers of visitors coming to play golf in Thailand.

Thailand is a great place to visit and play golf because of the diversity of locations making it ideal for preparing for that business meeting, or relaxing with a round after a grueling team building session. The vast choice of courses available throughout the country is a major attraction not only for tourists but business travelers alike. There are courses to suit every preference, from the tropical beach resorts in the south to mountainous surroundings in the north. A crucial element is that they are all in highly accessible areas with fast and convenient door-to-door transfers possible within a few hours' travel time.

The courses boast modern facilities that are designed to international standards and with an excellent infrastructure.

One of numerous recent plaudits given to the country has been an award by the World Golf Travel Agents Association (WGTAA) to Thailand as the best up and coming destination for golf vacations.

Not to be overlooked is the weather. In the cool season from November to February, Thailand has superb climate. There are light breezes, almost constant sunshine, perfect conditions for golf. Even in the summer months, when it does get quite warm, golfing conditions are still very tolerable.

Further strengthening the country's reputation as a golfing hub is the hosting of a number of world class tournaments which have attracted leading players such as Tiger Woods, Ernie Els and Colin Montgomerie.

The diverse nature of the country means golfers can test themselves in different playing conditions too. They can tee off close to a tropical jungle, putt next to a sandy beach or drive down the fairway surrounded by soaring mountains.
Thai Caddies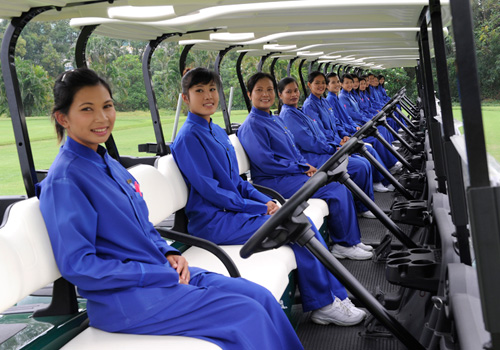 An integral part of playing the great game in Thailand is the caddies. They provide exceptional value-added service. You are greeted on arrival at the clubhouse and they will take care of all the arrangements before you begin your round. They will happily lend their knowledge and experience as you cover the course, with tips on what clubs to use, distances to the green, putt lines and they will provide refreshments too.
Golf Courses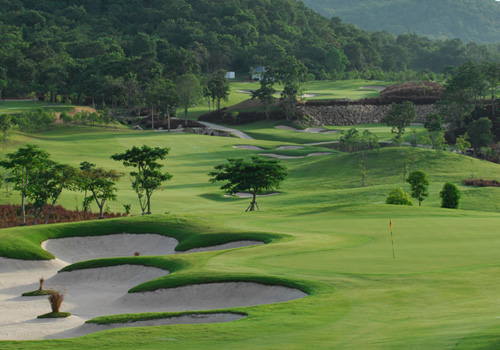 There is also the guarantee that when the game is over you can relax at the '19th' hole in total comfort and in exclusive and luxurious club houses. Some of the top courses with matching facilities include the Banyan Golf Club in Hua Hin and the Black Mountain. Journey to the north and you will find the spectacular Chiang Mai Highlands Golf and Spa Resort. Just 30 minutes travel time from Pattaya is the Laem Chabang International Country Club. Its course was designed by golfing legend Jack Nicklaus.

Two of many leading courses in Phuket are the Laguna Phuket Golf Club which is part of the Laguna Resort complex and the Loch Palm Golf Club. Situated around 50km north-east of Bangkok in the Lam Luk Ka district, is the Lotus Valley Golf Resort which was originally the design concept of another golfing legend, Gary Player.

In addition to those conceived by famous players, a number of courses have been designed by world renowned course architects including Robert Trent Jones, Pete Dye and top Japanese architects.

While Japan and Korea, for example, can offer numerically more courses, the vast majority are private clubs. In Thailand, the best layouts are resort tracks and these are the very courses which have for years attracted citizens from those two countries to play in.

Furthermore, courses in the Kingdom were designed and built with careful consideration given as to how best to serve the major cities, regions, cultural attractions and tourist centres. With this in mind, you will never have to worry about making connections to conference venues, or being late for important business presentations or seminars while in Thailand. Fast and easy access to transport links around the country is all part of the equation in making your golfing experience in Thailand a totally enjoyable and memorable one. All you have to worry about is getting your handicap down!