Attractions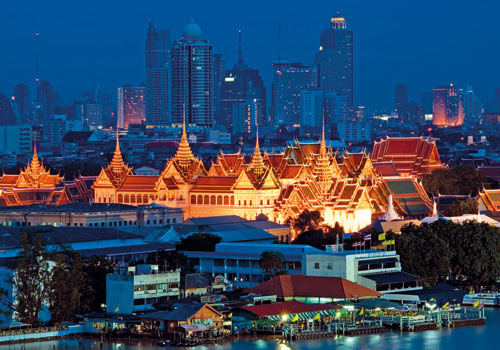 The only trouble with planning as to what attractions to see and visit in Thailand is, there are so many to choose from that you may not be able to cram them all into one visit to the country. No country in the world is like Thailand and it features a vast variety and diversity of attractions for all age groups and interest. You can find almost anything here: crystal blue beaches, thick lush jungle, great food, cheap beach front bungalows and some of the best luxury hotels in the world.
Temples
The culture and history of the kingdom has a richness that bestowed a plethora of art and architecture. As Buddhism is the religion of over 90% of the population, soaring stupas dot the landscape, throughout the country. The Grand Palace incorporating the Temple of the Emerald Buddha in Bangkok is one of the largest examples of fine Thai architecture in one place. Golden chedis, porcelain covered statues from the stories of the Ramakien (Ramayana) and exquisite murals on the inner walls of the compound makes this the main attraction of the country. Other notable temples to visit are Doi Suthep, set high in the hills of Chiang Mai, Wat Benchamabophit constructed with imported Italian marble in Bangkok and Wat Arun, the Temple of Dawn on the banks of the Chao Phraya River, one of the most iconic symbols of Thailand.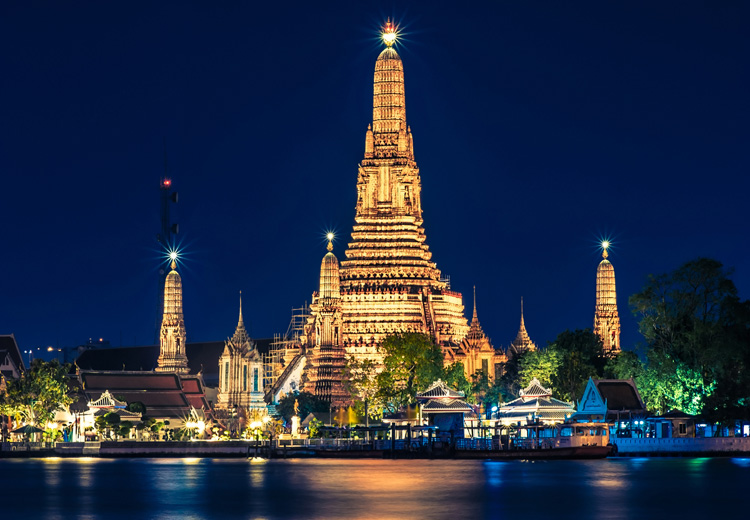 Little is known that the Ankorian era of King Jayaraman VII stretched right into Siam, which is now modern Thailand. Brilliant examples of Ankor architecture can be found as far as Kanchanaburi but notably the most well preserved temples are Prasart Hin Pimai in Khorat and Prasart Phanom Rung in Buriram.
Ancient Cities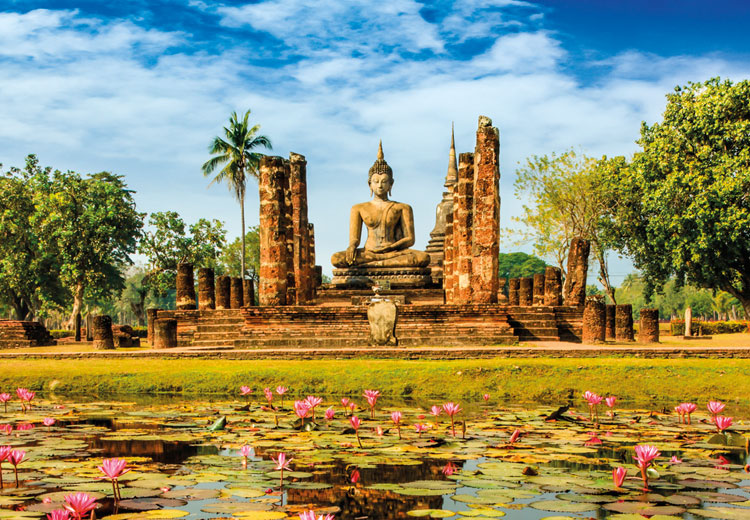 Two ancient capitals of the kingdom, Sukhothai and Ayutthaya are treasure troves of Thailand's past. Ruins of this old city still stand proud despite enduring centuries of battle and exposure to the elements. Sukhothai's Old City is a UNESCO World Heritage site, and much has been invested to restore and preserve one of Thailand's most significant historical sites. To get a glimpse into the glory of ancient Thailand, Ayutthaya presents haunting but romantic ruins. There are also several foreign settlements, where you can gain a greater understanding of the influence other countries had in Thailand at the time. Ayutthaya is located only a short bus or train ride from Bangkok, but the best way to get there is to take a boat trip up the famous River of King's, The Chao Phraya.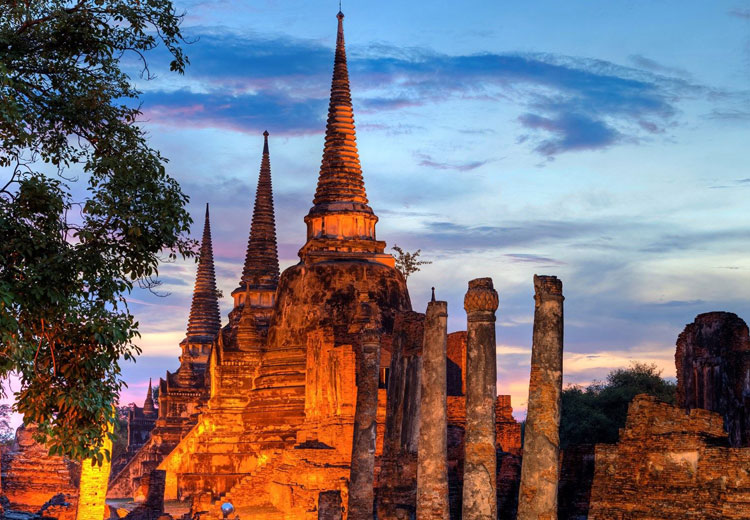 Thailand is the only Southeast Asian country never to be colonized, it is also studded with incredible cultural and historical sites, including ruins that stretch back hundreds of years. Even with the heavy flow of tourism, Thailand retains its quintessential identity with its own unique culture and history and a carefree people famed for their smiles.
Shopping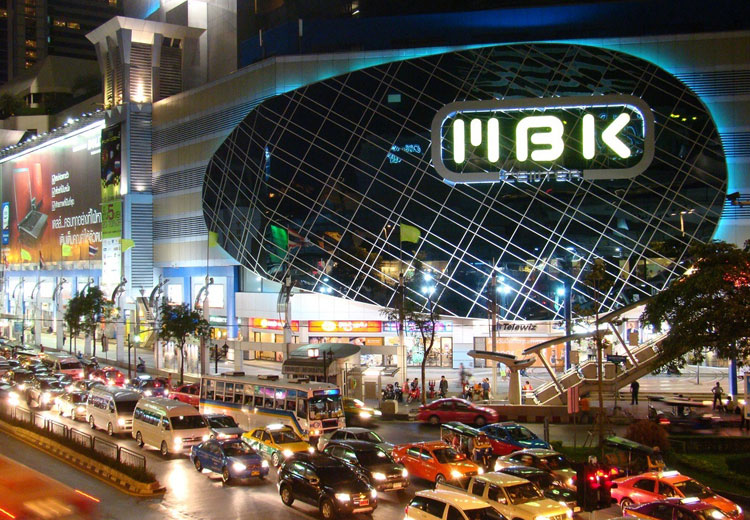 However, this historic country is also a modern and dynamic nation. In Bangkok and other cities such as Chiang Mai and Phuket, sleek shopping malls and department stores offer everything from quality artworks and handicrafts to top international brand-name goods. But visitors to the country are more enthralled by the uniquely Asian style of street and market-styled shopping. Chatuchak Market, with over 5,000 vendors in one chaotic but fascinating spot is a must visit. Apart from the regular clothes, handicrafts and general nick-knacks, bizarre items such as non-endangered animals like snakes, spiders and iguanas can be purchased for pets. In Chiang Mai, the famed Night Bazaar is open every day of the year regardless of the weather from dusk till around midnight. Street market and the two mentioned earlier are a great way to practice your bargaining skills. It is expected of you and is all part of the fun. Bargaining is almost a national sport in Thailand. Even though the prices appear cheap by your normal standards you should always bargain and try to get another 20-30% off the asking price.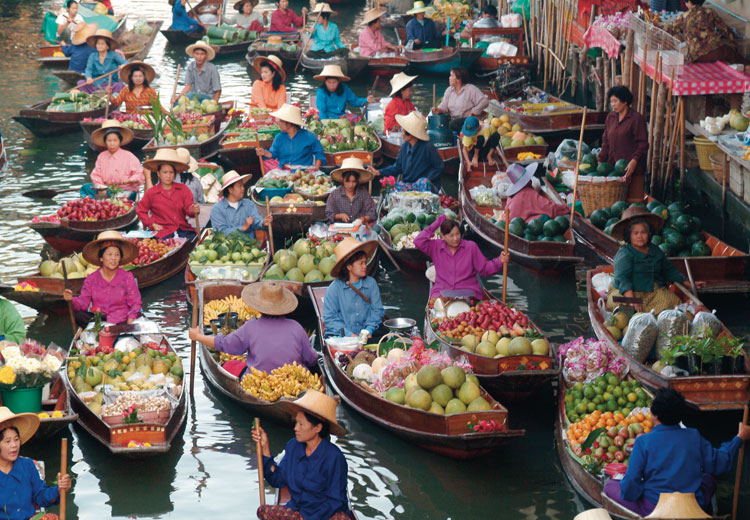 But a truly unique shopping experience in the country which is a major attraction are the floating markets. Damnoen Saduak, a couple of hours away from Bangkok is the most authentic of the many smaller versions and gives you a glimpse of what life was like when Bangkok was "the Venice of the East".
Theme Parks and Villages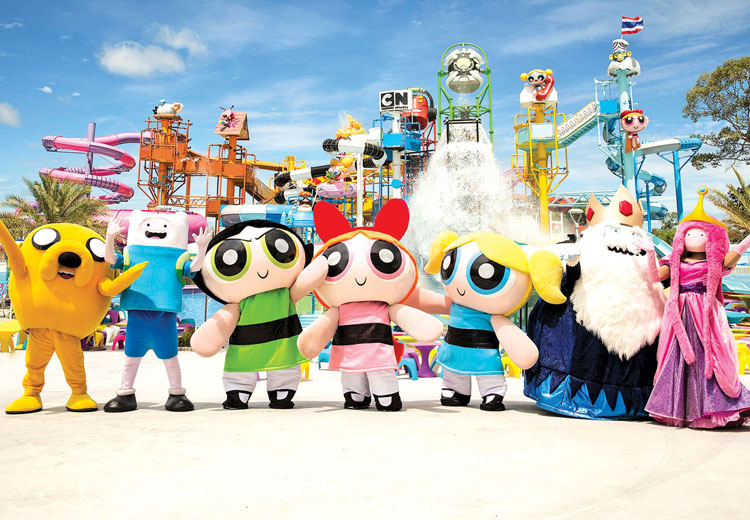 In keeping up with the modern world, Thailand has developed very popular theme and amusement parks. Notably, in Hua Hin, there is the amazing water park Vana Nava and the Cartoon Network Amazone Park in Pattaya.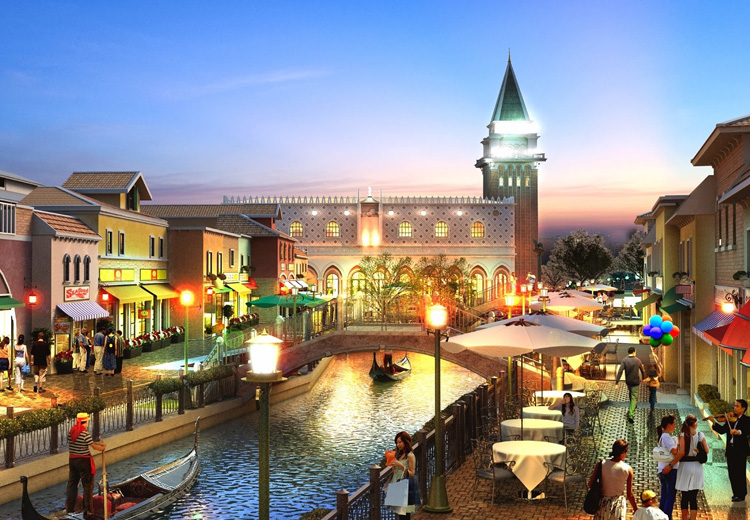 Furthermore, surrounding Khao Yai National Park in Khorat, there are several themed villages such as Thames Valley which transport you to the southern region of England and Primo Piazza where you can spend your day playing with sheep and alpacas in an Italian setting. And this is the tip of the iceberg, there a many themed villages in Bangkok, Pattaya and Hua Hin as well.
Beaches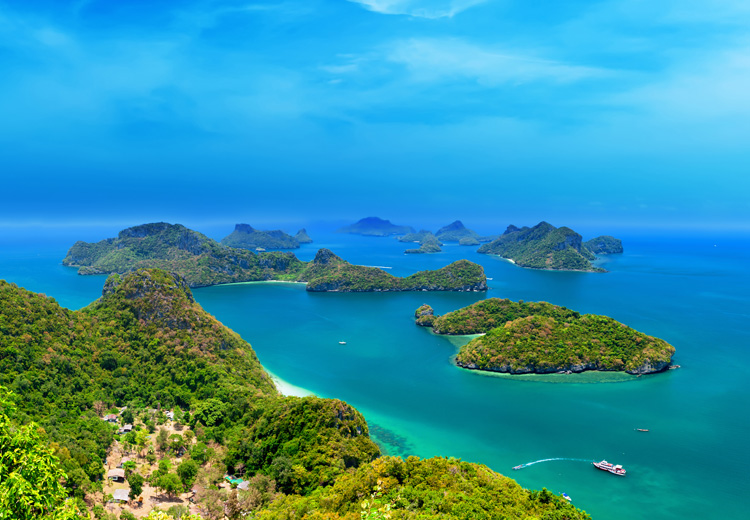 A big hit for visitors to Thailand are the picturesque and pristine beaches. With over 3,000 km of coastline, with palm trees swaying in a tropical breeze, it make Thailand close to paradise on earth. Hotels of every budget are available and what better way to relax with the clear waters of the sea crashing against the shore whilst having a traditional massage on the beach, watching the sunset and sipping a Pina Colada.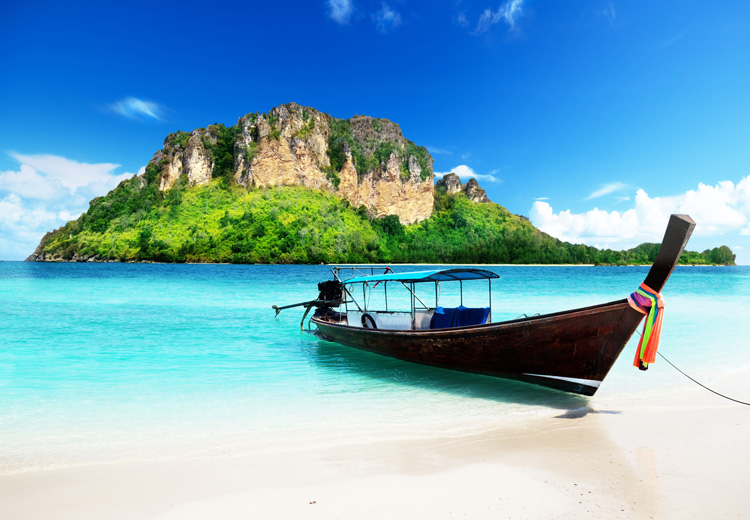 With all these amazing attraction and lot more, you will be spoilt for choices. And when the sun sets, Thailand's legendary nightlife begins.