Adventure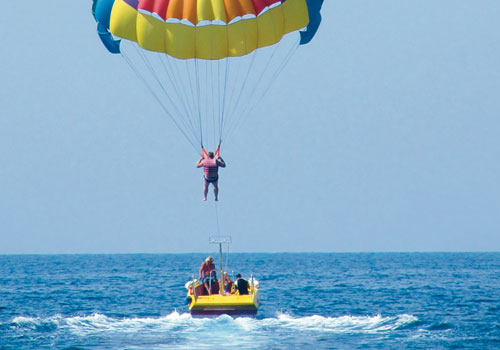 When it comes to adventure, Thailand is like heaven on earth. With a country so diverse geographically, abundant in natural resources, including a wide variety of flora and fauna, and distinct ecological zones, activities range based on region and main features. There are over 100 national parks, including more than 20 marine parks, and each park features unique attractions, outstanding facilities, and opportunities to see wildlife in Thailand. Whether its trekking, mountain biking, camping, scuba diving, or getting up close to exotic animals in Thailand, you will be spoilt to decide which adventure to choose. A visit to a Thailand beach or one of the many Thailand islands is an opportunity for visitors to relax, experience exotic marine life or even learn to scuba dive. However, across Thailand, whether at a beach, island, or Thailand National Park visitors will discover unique flora and fauna and distinct ecological zones, from the temperate forests of the northern mountains and the plains of central Thailand to the savannahs of the northeast and the mangrove forests of the southern coasts.
Water-based Adventures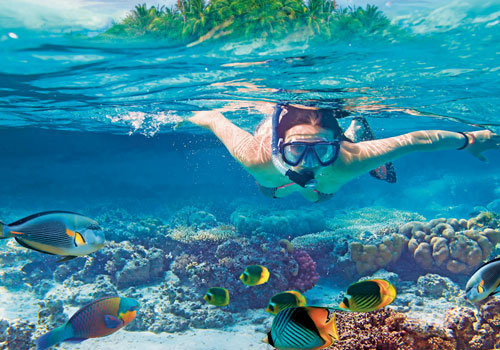 With over 3,000 km of coastline and hundreds of islands, the sea offers adventures that entice world travelers to its shores. The Andaman Sea on the west offers brilliant opportunities for scuba diving and snorkeling with vast beds of protected coral reefs and the aqua life it sustains. This region offers one of the best opportunities to see and swim with whale sharks, the world's largest fish. On the other side of the Isthmus of Kra, The South China Sea offers unparalleled diving experiences. But you would not have to travel so far south of the kingdom as the islands of the Eastern Seaboard offer similar adventure. For those who rather stay above the waters, you can indulged in jet skiing, paragliding, sailing, sea-kayaking and yachting.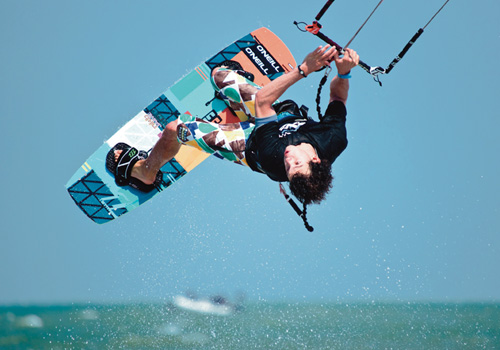 In the north of the country, basins of rivers Ping, Wang, Yom, and Nan, which are all tributaries of the Chao Phraya River, are wide and excellent for white water rafting and kayaking.
Land-based Adventures
Eco-oriented activities at a national park in Thailand range from trekking, kayaking, nature photography, camping and snorkeling to spotting exotic birds and other animals in Thailand unlike those found elsewhere in the world. However, simply relaxing and enjoying the pristine beauty of unspoiled Thai nature may be the most rewarding experience of all. Most national parks are ideal for camping and also have simple bungalows with basic amenities for those who want a longer stay.

Khao Yai National Park, the largest in the country, in the Isaan plateau is a lush forest park if you long to explore the tropical rainforest or travel deep into the wild jungle to see some of the exotic animals such as wild tigers, elephants, bears, and exotic birds, including the giant hornbill in their natural habitat of unique flora and fauna.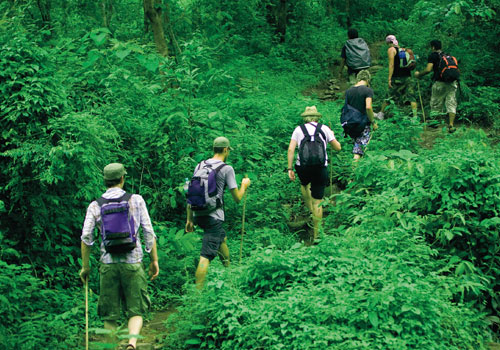 The northern region of the kingdom attract trekking enthusiast with its mountainous terrain with the added bonus of visiting the indigenous hill-tribe villages. Doi Inthanon National Park is visited for its highest peak and contains waterfalls and forests containing numerous species of orchid.

Sam Roi Yot National Park is a favorite for bird watchers as the coastal region of the park features marshes that are home to a variety of waterfowl and other marine life.

Erawan National Park, located in Kanchanaburi Province in western Thailand, features a renowned seven tiered waterfall and a tropical forest that contains numerous wildlife species.