Public Transport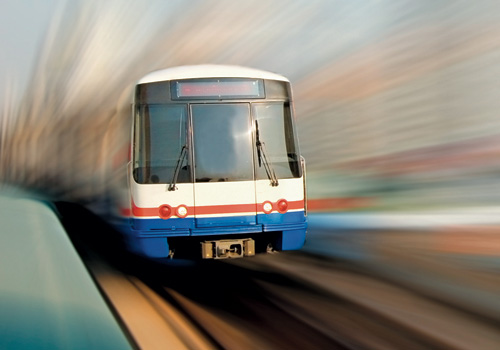 Transport in Thailand is varied with no one dominant means of transport. For long distance travel, bus transport dominates. Low-speed rail travel has long been a rural long-distance transport mechanism, though plans are underway to expand services with high-speed rail lines extending to several major regions of Thailand.
Road Transportation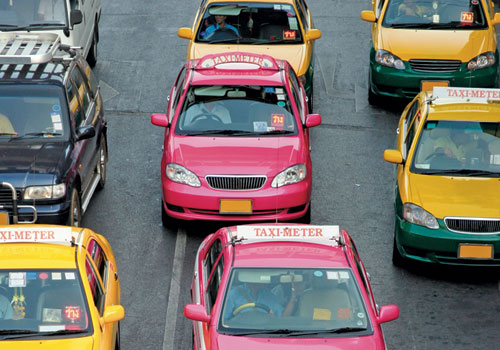 City Bus & "Song Taew"
Bangkok has one of the largest and most extensive city-bus system in the world, while Udon Thani and a few other provincial capitals have some city-bus services. The etiquette for riding public buses is to wait at a bus stop and hail the vehicle by waving your hand palm-side downward. You typically pay the fare once you've taken a seat or, in some cases, when you disembark.

Elsewhere, public transport is provided by "song-taews". They sometimes operate on fixed routes, just like buses, but they may also run a share-taxi service where they pick up passengers going in the same general direction. In tourist centres, "song taews" can be chartered just like a regular taxi, but you'll need to negotiate the fare beforehand. You can usually hail a "song taews" anywhere along its route and pay the fare when you disembark.

Depending on the region, "song taews" might also run a fixed route from the centre of town to outlying areas, or even points within the provinces.
Taxi
Bangkok has the most formal system of taxis which are metered and air-conditioned, and the red-lit sign in the windscreen means that service is available. Not all drivers speak English, but many have a radio connection to an English-language speaker. It is advisable to ask your hotel to write your destination in Thai, and to carry a hotel card for when you return to base.

Outside of Bangkok, only cities that are major tourism destinations have a metered taxi service, and the taxis might not be plentiful. All the major hotels however have a car and driver hire service, and many of the hotels provide a shuttle bus to popular local destinations.

In the larger cities, traditional taxi alternatives and app-based taxi hailing initiatives are also available.

Uber is undoubtedly the most well-known ride service in the world, was introduced to Thailand in 2014. It quickly gained popularity among those looking to avoid the usual Bangkok taxi headaches: communication issues, perpetual lack of change and reckless drivers. Yet in late 2014 Thailand's Department of Land Transport deemed the app-based outfit illegal, declaring that its vehicles weren't properly registered, its fares unregulated and its drivers unlicenced howeverUber still operating in Bangkok, albeit less conspicuously.

The good news is that other outfits such as GrabTaxi and Easy Taxi both of which operate via already-registered taxis, haven't been affected by the ruling. And in 2015, a domestic alternative, All Thai Taxi, has even been introduced.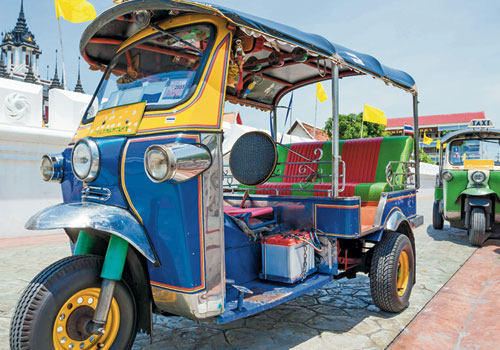 "Sam Lor" & Tuk-tuk
"Sam lor" are three-wheeled pedicabs that are typically found in small towns where traffic is light and old-fashioned ways persist. The modern era's version of the human-powered "sam lor" is the motorised tuk-tuk. They're small utility vehicles, powered by screaming engines (usually LPG-powered) with a lot of flash and sparkle. The proud little tuk-tuk, a symbol of Bangkok, is fine for a short journeys. With either form of transport the fare must be established by bargaining before departure. In tourist centres, tuk-tuk drivers often grossly overcharge foreigners, so have a sense of how much the fare should be before soliciting a ride. Hotel staff are helpful in providing reasonable fare suggestions.
Motorcycle Taxi
For short trips motorbikes are common. There are public motorcycle taxis in Bangkok, Pattaya, and other large cities. An overwhelming number of taxis can also be found in Bangkok. If you're empty-handed or travelling with a small bag, they can't be beaten for transport in a pinch. In most cities, you'll find motorcycle taxis clustered near street intersections. Usually they wear numbered jerseys. Fares tend to run from 10B to 50B, depending on distance. You'll need to establish the price beforehand.
Bus & Minivan
The bus network in Thailand is prolific and reliable. The Thai government subsidises the Transport Company (bò•rí•sàt kŏn sòng), usually abbreviated to Baw Khaw Saw (BKS). Every city and town in Thailand linked by bus has a BKS station, even if it's just a patch of dirt by the side of the road. By far the most reliable bus companies in Thailand are the ones that operate out of the BKS stations. In some cases the companies are entirely state owned; in others they are private concessions.

We do not recommend using bus companies that operate directly out of tourist centres, such as Bangkok's Th Khao San, because of repeated instances of theft and commission-seeking stops. Be sure to be aware of bus scams and other common problems.

There are 4,125 public vans operating on 114 routes from Bangkok to the provinces alone. They are classed as Category 2 public transport vehicles (routes within 300 kilometres). Until 2016, most operated from a Bangkok terminus at Victory Monument. They are being moved from there to the Department of Land Transport's three Bangkok bus terminals.For some destinations, minivans are increasingly superseding buses. Minivans are run by private companies and because their vehicles are smaller, in some cases will deliver guests directly to their hotel.

The cheapest and slowest buses are the rót tam•má•dah (ordinary fan buses) that stop in every little town and for every waving hand along the highway. Only a few of these ordinary buses still exist, mostly in rural locations or for local destinations.

Rót aa (air-con buses) come in a variety of classes, depending on the destination's distance. Short distances are usually covered by the basic 2nd-class bus, which does not have an on-board toilet. For longer routes, buses increase in comfort and amenities, ranging from 1st class to 'VIP' and 'Super VIP'. The latter two have fewer seats so that each seat reclines further; sometimes these are called rót norn (sleeper buses). Bring a jacket for long-distance bus trips as air-con keeps the cabin at arctic temperatures. The service on these buses is usually quite good and on certain routes sometimes includes a beverage and video, courtesy of an 'air hostess'. On overnight journeys the buses usually stop somewhere en route for a midnight meal.

You can book air-con BKS buses at any BKS terminal, or even by phone with a payment at 7-Eleven. Ordinary (fan) buses cannot be booked in advance. Privately run buses can be booked through most hotels or any travel agency, but it's best to book directly through a bus office to be sure that you get what you pay for.
Rapid Rail Transportation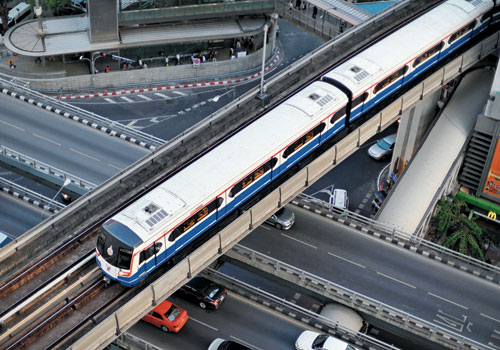 Bangkok is the only city in Thailand to have an above-ground (BTS) and underground light-rail (MRT) public transport system. Since the country's first rapid rail transit line opened in 1999 in Bangkok, daily ridership on Bangkok's various transit lines has risen to over 800,000, with multiple additional lines either under construction or being proposed.
BTS Skytrain
The Sky Train is a convenient, inexpensive and fast way to get around Bangkok, allowing you to move quickly from one place to the next while enjoying views of the city's ever changing skyline.

The system consists of 23 stations along two lines: the Sukhumvit line running northwards and eastwards, terminating at Mo Chit and On Nut respectively, and the Silom line which plies Silom and Sathon Roads, the Central Business District of Bangkok, terminating at the National Stadium and Saphan Taksin (Taksin Bridge). The lines interchange at Siam Station and have a combined route distance of 55 km. Fares vary, depending upon the length of the journey, but one-day tourist passes are available for 100 baht (about US$3). The service operates from 06:00 to 24:00hrs with trains every three to six minutes. During the peak periods of 07:00-09:00 and 17:00-20:00 trains run every two minutes.
MRT Underground Metro
The Bangkok Metro, or MRT, is an underground railway system that connects to Hua Lamphong, Bangkok's mainline railway terminus.

The service operates from 06:00 to 24:00hrs with trains a maximum of every 10 minutes during off-peak hours and less than five minutes during the peak hours of 06:00-09:00 and 16:30-19:30hrs.

Passengers can transfer to the Sky Train at three stations, namely Silom, Sukhumvit and Chatuchak Park.
Suvarnabhumi Airport Link or ARL
The 28.6 km overhead Airport Rail Link (ARL) provides a convenient connection between Suvarnabhumi Airport via Makkasan to Phaya Thai station in central Bangkok with eight stations along the way. The ARL operates daily from 6 am to midnight departing every 10 minutes during peak hours and 15 minutes off peak and weekends. A standard fare of 15–45 baht is charged depending on distance.
River Transportation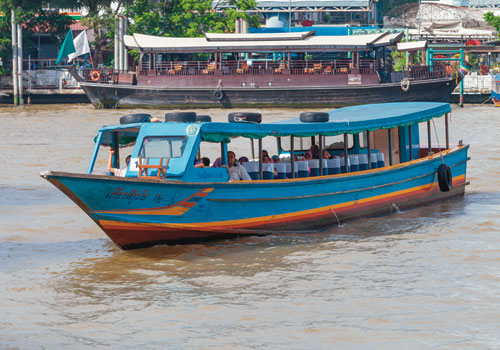 Travelling by boat along the Chao Phraya River is both practical and pleasurable. Chao Phraya Express boats ply up and down the river between southern Bangkok and Nonthaburi, the province immediately to the north, with stops at some of Rattanakosin's main attractions. Passengers board at piers that have English language route maps, and pay the ticket collector on board. The Central Pier has an interchange with the Skytrain Saphan Taksin station.

For trips outside the set routes, you can hire a long-tail river taxi at any major pier. The Chao Phraya Express 21 km route is served by 65 boats and operates between 06:00 to 19:30 pm daily. Fares are from 10 baht to 34 baht, depending on the distance travelled.

The Khlong Saen Saep Express Boat service operates along the Saen Saeb Canal through central Bangkok, providing a traffic-free trip between Siam Square and Banglamphu, or in the opposite direction, to Ramkhamhaeng and Bang Kapi. The 18 km route is served by 100 boats of 40-50 seats, and operates between 05:30am to 20:30pm daily. Prices are 10 to 20 baht, depending on distance travelled.
Rail Transportation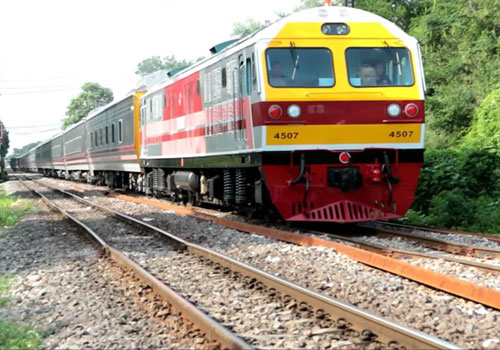 The SRT operates all of Thailand's national rail lines. Bangkok Railway Station (Hua Lamphong Station) is the main terminus of all routes. Phahonyothin and ICD Lat Krabang are the main freight terminals.

The State Railway of Thailand (SRT) operates 4,070 km of 1.000 m gauge railway line (372.63 km double track and 106.01 km triple track). The SRT has long been popularly perceived by the public as inefficient and resistant to change. Trains are usually late, and most of its equipment is old and poorly maintained. The worst financially performing state enterprise, the SRT consistently operates at a loss despite being endowed with large amounts of property and receiving large government budgets it reported a preliminary loss of 7.58 billion baht in 2010. Recurring government attempts at restructuring and/or privatization throughout the 2000s have always been strongly opposed by the union and have not made any progress.

There are two active rail links to adjacent countries. The line to Malaysia uses the same 1,000 mm (3 ft 3 3⁄8 in) gauge, as does the line to Laos across the Mekong River on the Thai-Lao Friendship Bridge. The line to Cambodia is currently disused and is being rebuilt, while the line to Myanmar is defunct (see Death Railway). A projected extension will rebuild the route and in 2011 a link was also proposed from Kanchanaburi to Port Dawei.

Rail transport in Bangkok includes long-distance services, and some daily commuter trains running from and to the outskirts of the city during the rush hour, but passenger numbers have remained low. There are also three rapid transit rail systems in the capital.